The Islamic Food and Nutrition Council of America (IFANCA) will be organising it's 15th International Halal Food Conference on April 6 - 8, 2013 in Rosemont, Illinois, USA.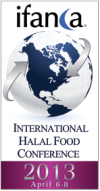 Download Brochure
This year's theme is : Halal United – An Integrated Approach
This three days seminar will cover topics like :
General Guidelines

for

Halal Certification

of Food and Non-Food Products
The developing field of

Halal Logistics

Integrated

Halal Assurance Systems

In-Depth Discussion

on Food Processing Aids, Packaging Materials, Propellants and Sanitation Chemicals in Halal Industry
Attended and addressed by the Renowned Scientists, Scholars, Industries Executives, Halal Authorities from around the World, delegates are invited to participate in the discussion towards developing a global Halal standard.

will be presenting at this conference, covering "Halal Integrity : from control to assurance" and will also be sharing its experience in the field of Halal Logistics.
For more information, contact IFANCA or download the Halal Food Conference Brochure.