Sealed Air will present Prime Poultry 2013 at PackForum, an exclusive event for processors, retailers and food service executives in the poultry business in on September 11 - 12 in Paris, France.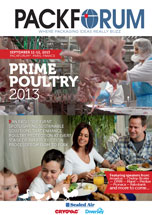 Download Brochure
This can't-miss event includes hands-on demonstration and interactive seminars led by 10 noteworthy European and global experts in processing, economics, retail and equipment manufacturing.
An exclusive event spotlighting sustainable solutions that enhance poultry protection at every stage of the production process: From Farm to Fork.
As poultry and Halal go together,

will also be presenting at this conference, covering "Halal Brand Equity™: how to keep two promises ?".