Indonesian Halal law 33/2014
Indonesia has strict Halal requirements for Halal products entering the Indonesian markets. With the new law, entering in force in 2019 at the latest, products entering Indonesia must be certified Halal, unless they are Haram. This law is not limited to food products but covers cosmetic and pharmaceutic products as well.
Halal Assurance System 23000
For a product to be certified Halal, it has to be produced using a certified Halal Assurance System, the Indonesian HAS 23000.
Halal Retail Products
Additionally, retail Halal products must carry the MUI Halal logo, which can be obtained only after passing a successful HAS 23000 audit by LPPOM-MUI or an equivalent organisation. Halal logo's of MUI approved non-resident Halal Certification Body are not valid.
MUI-LPPOM training certificate

received the MUI-LPPOM HAS 23000 training certificate.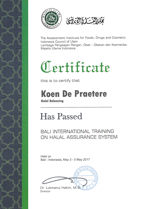 is now qualified as HAS 23000 internal trainer, HAS 23000 internal auditor and MUI approved Halal Management Team Member. A prerequisite for obtaining HAS 23000 certification.
Hence, we can now assist companies in obtaining direct MUI Halal product approval for their retail products as well continue to assist companies in he preparation for the standard certification by local MUI approved Halal Certification Bodies for BtB products.