Organised together with the Halal Certifiers Convention, Jakim and Dagang Halal organised a first Technical Halal training program, focussing on the fine details of Jakim Halal certification, in and outside of Malaysia.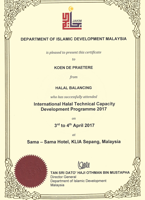 attended this training, updating its existing knowledge of Jakim approval in general and Halal slaughter - Halal Slaughterhouse approval in detail.
Jakim also announced it will start offering direct international Halal certification to non-resident companies. This would allow such companies to carry the Jakim Halal Logo, a significant commercial advantage.

comes well prepared to this new evolution, next to helping companies understanding Jakim requirements and assisting them with the standard Halal certification by local Jakim approved Halal Certifying Bodies.