"JAKIM is in the process of enforcing compulsory courses and training to all Halal Executives in the industry in this country through the Halal Professional Board Malaysia (HPB), to ensure that they have the same knowledge and are not left out from the developments and activities of the halal authorities" said Director Halal Hub Division, Department of Islamic Development Malaysia (JAKIM), Dato' Dr. Sirajuddin bin Suhaimee – BH Online, 9th February 2018.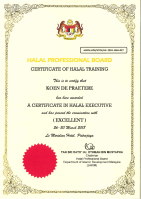 The Halal Executive workshop focuses on Halal Assurance System (HAS) implementation, HAS Documentation requirement, Internal Halal Committee and Maintaining Post-Halal Compliancy, next to in depth knowledge on how to apply for Jakim certification, national and international.

passed the exam of this 5-day training by JAKIM, becoming a JAKIM certified Halal Executive, as part of the Halal Professional Board Malaysia programme.