Organised together with the Halal Certifiers Convention by Jakim, this year's training program widens the area of Jakim Halal certification, in and outside of Malaysia.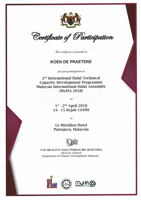 attended this training, updating its existing knowledge of Halal Logistics, following the MS2400 Halal Logistics Standards.

also attended the MOU signing between Northport and Logistics in Wallonia, a project to establish a Halal logistics route between Malaysia and Europe. We also assisted in preparing the Halal Hub-to-Hub concept.