When Hazard became Haram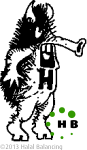 When I was implementing HACCP-programs in 1995, the year when HACCP became a legal obligation in Europe, I designed Hazard, a character symbolising the food safety risks we needed production processes to screen for.
Little did I know I would re-use this character under the different name of Haram when screening production processes for Halal integrity risks (Haram) when performing Halal ACCP-studies...
Defining Halal
As there are so many approaches to Halal, starting with Halal may sometimes feel like having to choose a car from a highway with dense traffic, with cars of different sizes, different colours, old or new, driving fast or slow. Now which car to choose ?
Fortunately it is not about choosing cars but about following the traffic rules. And this is what our Highway of Halal™ program is about : learning about and how to follow the Halal 'traffic' rules.
The Highway of Halal™ training program cover various elements of Halal, from creating Halal awareness to mastering the underlying principles of Halal for solid implementation.
Programs are flexible and include topics like :
But above all, the programs are tailored to your needs.