We do not certify and are not connected to a Halal Certification Body.
Instead, as an independent Halal consultant, we help companies to understand Halal requirements and to prepare them for entering Halal markets.
We focus on managing Halal business risk by securing Muslim consumer trust through certified We help to select the Halal Certification Body best suited for the target Halal market and accreditedSeamless integration into existing quality systems, audited by accredited third party auditors. As a consequence, Halal is assured the same way Food Safety is assured. execution of official Halal Programs.We use official Halal programs or standards, not the requirements of Halal Certification bodies. Requirements from Halal certifiers may differ from those of the targeted Halal market.
Halal requirements are being translated into standard operational procedures using a verified methodology, enabling Halal assurance in Halal and non-Halal environments. The combination of the operational strength of audited, systems based operations, with a solid implementation of internationally accepted Halal practices results in an unique guarantee of Halal integrity.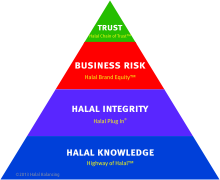 Separating facts from folklore with our Highway of Halal™ training program, the Halal Chain of Trust™ and the Halal Brand Equity™ concepts help to understand the importance of consumer trust, allowing companies to protect their Halal investments. The Halal Plug In® methodology builds-in Halal integrity and Halal ownership, leveraging solid European operational efficiency with Malaysian Halal authority.
Advice and training is given on installing Halal Analysis & Critical Control Points systems, on how to integrate them into standard operating procedures, on preparing for compliance audits, on selecting Halal certifiers, on obtaining access to international Islamic markets (including Halal Export Documentation and Approved Halal Certifier Selection), and on how to market Halal products.